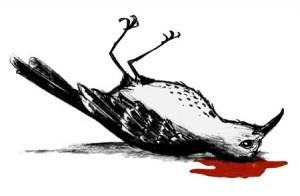 A classic novel that for years has been part of the school English ciriculum is removed from one high school because of one compaint?   Is that all I needed so I did not have to read it?  What is this world coming too?
Just killed an ant with a sledge hammer!
And I'll guarantee that the parent was not a Cristian Canadian.  This is likely religiously motivated and the school board should have intervened.  Why should should one parent complain and the principle acts like the majority have spoken?  Dear Mr. Principle, You should attend a class on democracy!
The article  from 680News:
The classic novel, To Kill a Mockingbird, is being pulled from the Grade 10 English course at a Brampton high school.
A parent complained about the insulting racial language used in the book.
Dufferin-Peel Catholic School Board spokesperson Bruce Campbell told the Toronto Star the book will still be available to students in the school library.
The Pulitzer Prize-winning novel, which tells a story of racial intolerance in America's deep south, is a fixture on high school reading lists across Canada.
This isn't the first time the school board removed a book from it's curriculum based on a single complaint.
The novel, Snow Falling on Cedars, was pulled in 2007 after a parent complained about the book's sexual content.